Ways You Can Get Involved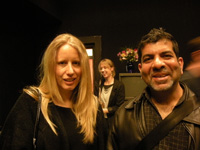 There are a number of ways to contribute: from donating money, to equipment, to your skills and time.
1687, Inc. is a tax-exempt, non-profit organization funded entirely through individual donations and grants from foundations. We receive no corporate underwriting. Without your support, we couldn't grow.

Every contribution makes a difference.
Our 2017 on-line fundraising goal is $5,000 – our current budget is a little over $13,000.
Donations of any amount are welcome and useful - for example $10 buys the tapes and DVDs we need for one episode of The Facts.
1687, Inc. is a 501(c)3 non-profit organization and donations are tax exempt to the full extent of the law. You can make a tax-deductible donation online using PayPal through a secure server.
Or, send a check payable to 1687, Inc. and send to:
1687, Inc. PO Box 1000 New York, NY 10014
Donate Equipment
Your contribution will help realize 1687 productions and educational services and it's tax-deductible! Every new camera or monitor helps us to produce the program. Send us an email describing the piece of equipment you'd like to donate. Here are some examples of items we are looking for:
• Flat-Panel LCD Monitor
• DV Deck (video editing system)
• Digital Video Camera
• Multiple CD/DVD Burner
• Software (e.g. Final Cut Pro)
Other Ways to Donate
Donate Services and Products from your Business
Let us know what you can offer, either for free or at a discount.
Donate Skills and Time
Volunteer either at our studio/office or from your home. We are in constant need of help with our administrative, outreach, and production – current volunteer needs are described on this page.
Donate Stocks and/or Bonds
Contact us to make a tax-exempt stock donation.
Does your Employer have a Charitable Gift Matching Program?
Many companies offer a matching gift programs for their employees. If your company does have such a program, please register your donation to us with them so they can match it.
Would you like friends to donate to 1687, Inc. in lieu of receiving gifts for a special occasion?
Ask friends and family to donate online to 1687, Inc. We will keep track of your personal donor list (note the reason for the gift in the comment box) and thank them on your behalf.
Thinking of Estate & Planned Gift Giving?
You might consider leaving assets to 1687, Inc. in your will. If so, let us know.
Bring The Facts To Your Community
Ask YOUR TV STATIONS today to add The Facts to their schedules.
Send your comments
Tell us what you think about The Facts
WEB BASED MARKETING TEAM:
Project Description: 1687 produces a TV and web art music series, "The Facts" broadcast weekly on Manhattan Neighborhood Network (MNN) and archived on the web.Our core ensemble playing improvised, and composed music and text.  We will be exploring reality, e.g. sensations, emotions, and reasoning, etc. Each performance is an analysis of a theme – many of them with political implications. The productions, are an unusual opportunity to make expressively complex TV shows and reach an international audience. www.1687.org has information about our work and music samples (on press page)
Project Description: We are developing a marketing team for a web-based distribution and marketing of The Facts. This distribution/marketing project provides an unusual opportunity to help market an expressively complex TV shows that reach as well as provide information about making TV shows that may be useful to other people interested in utilizing public access TV.
Description of Positions:
We are looking for three volunteers to help for us: develop and implement web distribution and marketing strategies, increase website visibility and traffic.
Marketing specialist(s) to help us develop and implement web marketing strategies and work plans targeting the diverse range of constituencies for the whole series and/or for specific episodes.
Web marketer(s) to increase website visibility and traffic

Required hours: 3-4 hours per week from your locale. All positions are non-paying with the possibility of becoming paid depending on funding.
Addendum: All volunteer names will published on the 1687 website and on promotional materials that feature a description of the website
College credit may be available to current students depending on your school's internship credit policy.
Contact: Send a letter about your interest and your resume to Lenore Von Stein Email: vonstein@1687.org